Managed Services and Hosting Innovator ScaleMatrix Runs on Nexenta with 200% Better Performance and Lower Cost
Nexenta Software-Defined Storage Platform Enables ScaleMatrix to Out-Perform Competitors, Add New Tiered Services and Ultimately Save Millions of Dollars
 SANTA CLARA, Calif. – July 29, 2015 — Nexenta (@Nexenta), the global leader in Open Source- driven Software-Defined Storage (OpenSDS), today announced that ScaleMatrix, a respected hybrid solutions provider, has successfully utilized NexentaStor to improve cloud operations and support for the rapidly growing cloud service portfolio. With Nexenta, ScaleMatrix has demonstrated a 200% performance increase when comparing virtual machine and application hosting within its cloud platforms, and estimates the savings over more traditional storage services in the millions of dollars. NexentaStor helped ScaleMatrix out-perform top competitors including Amazon, Google, Rackspace and Azure.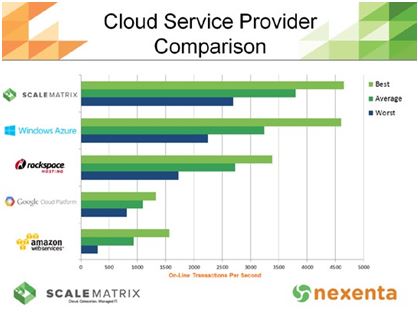 ScaleMatrix, in partnership with Nexenta, conducted cloud  performance trials at the company's advanced data center in San Diego. A variety of cloud workloads and applications were tested against a number of traditional hosting service platforms. The results were compared against ScaleMatrix' performance cloud service, driven by Nexenta and SanDisk.
"Our clients have demonstrated an ever increasing need for storage performance, and they rely on us to deliver those services in a cost-effective manner," said Chris Orlando, Co-Founder of ScaleMatrix. "They want to know that they can see performance benefits end-to-end over the entire stack. Nexenta plays a key role to helping us deliver both competitive and cost-effective services for our clients. We've been able to deliver more IOP per dollar with Nexenta than we could with any other platform."
ScaleMatrix views Nexenta as a key contributor to its competitive advantage. The company counts on the open-source nature of the Nexenta product to provide the flexibility to easily manage data between its platform and other service platforms. 
"The bottom line is how fast our customers' applications respond and how fast it works end-to- end. We design and maintain performance levels that exceed our customers' expectations which translate to more business and greater loyalty," added Orlando.
"ScaleMatrix's testing shows that open source, software-defined storage provides results that help companies differentiate themselves," said Tarkan Maner, Chairman and CEO at Nexenta. "SDS has a significant impact in real-world use and performs at the highest levels given the demands of today's multi-tenant, end-to-end environments. Better performance means better profits."
 ScaleMatrix offers customers a mix of colocation and managed services, plus a cloud portfolio that includes public, private, and IaaS hosting. Since 2011, ScaleMatrix has served its clients— from small startups to Fortune 500 businesses—by architecting, deploying, and managing complete hybrid solutions from their innovative and cutting edge US data centers.
 ScaleMatrix founders recognized early on that the ease-of-use and scalability were going to be paramount when supporting the exponential data growth anticipated in their customer base. ScaleMatrix evaluated all of the major players in the storage industry during an extensive review process, looking for the platform that could offer the greatest performance, flexibility, scalability, and cost effectiveness.
Nexenta provided exceptional value in all categories plus the open-source nature of the software-defined storage platform provided additional benefits to the dynamic and fast-growing cloud providers such as ScaleMatrix.
"We started small with a couple hundred terabytes on Nexenta, but now we have almost two petabytes, and we plan on doubling that each year.  Nexenta scales easily while keeping manageability incredibly easy. If we had to scale up by tying together huge arrays, we'd be struggling. Nexenta helps us avoid that completely." said Orlando.
Today, ScaleMatrix leverages NexentaStor to manage, monitor and deploy IOPs based on customers' requirements. The flexibility of the Nexenta interface and its simplification of SAN- to-SAN migration makes it easy for ScaleMatrix to offer each customer a seamless combination of different performance tiers with different percentages of SD and spinning disk for unmatched performance, at the lowest possible cost.
"We chose Nexenta for its technological strength," says Orlando. "But over time we've come to appreciate the knowledge and support we've received from all the Nexenta people we've worked with, from tech sales support up through Tarkan Maner, the CEO. They've become a big part of our success."
Please refer to the ScaleMatrix Written Case Study, Video Case Study and the ScaleMatrix  Benchmark Testing Results Report for more implementation details.
Tweet This: .@Nexenta delivers 200% better performance & lower cost to green hosting innovator, @ScaleMatrix. Read more: http://bit.ly/1ghKjRJ #OpenSDS
About Nexenta
Nexenta is the global leader in Open Source-driven Software-Defined Storage (OpenSDS) with 6,000+ customers, 400+ partners, 33 patents, and more than 1,200 petabytes of storage under management. Nexenta uniquely integrates software-only "Open Source" collaboration with commodity hardware-centric "Software-Defined Storage" innovation. Nexenta OpenSDS solutions are 100% software-based; and 100% hardware-, protocol-, and app-agnostic providing organizations with Total Freedom protecting them against punitive vendor lock-in. Nexenta provides organizations with the "true" benefits of Software-Defined Everything-centric Cloud Computing – from data centers to end users; from the infrastructure to apps. Nexenta OpenSDS enables everyday apps from rich media-driven Social Living to Mobility; from the Internet of Things to Big Data; from OpenStack and CloudStack to Do-It-Yourself Cloud deployments – for all types of Clouds – Private, Public, and Hybrid. Founded around an "Open Source" platform and industry-disrupting vision, Nexenta delivers its award- and patent-winning software-only unified storage management solutions with a global partner network, including Cisco, Citrix, Dell, HP, Quanta, SanDisk, Seagate, Supermicro, VMware, Western Digital, Wipro, and many others.
 For more information, visit, www.nexenta.com, Twitter, Facebook, LinkedIn and YouTube. Also, download the newly published Nexenta Special Edition Software Defined Data Centers (SDDC)  for Dummies eBook.
 About ScaleMatrix
ScaleMatrix is a Hybrid Service Provider delivering an array of cloud, colocation, managed services, data protection and connectivity under one simple umbrella. As developers of ground- breaking data center efficiency technology, our company offers a cutting edge product catalog with white-glove support services at market prices which benefit from these proprietary cost- saving innovations. With a focus on helping clients choose the right platform and performance criteria for a variety of IT workloads, ScaleMatrix aims to be a one-stop shop for those looking to simplify and reliably manage development, production, and disaster recovery workloads with a single partner.
 Nexenta, NexentaStor, NexentaConnect, NexentaEdge and NexentaFusion are trademarks or registered trademarks of Nexenta Systems Inc., in the United States and other countries. All other trademarks, service marks and company names mentioned in this document are properties of their respective owners.
 Company Contact: Allison Darin Nexenta
831-359-8208