Megaport Connected Data Centers
ScaleMatrix' highest density data centers brings Multi-Cloud Connectivity through the dedicated and secure Megaport™ Software Defined Network.
Visit our Variable Density Colocation Sites webpage to find a data center near you.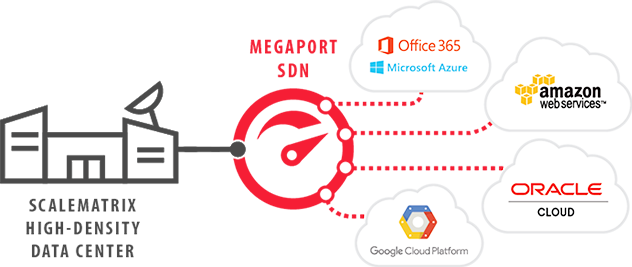 Step 1

CONNECT WITH SCALEMATRIX

Step 2

CHOOSE A PORT SIZE & PRICING PLAN

Step 3

VIRTUAL CROSS CONNECT™

With your port activated, launch any number of VXCs to nearly any destination in just
It's that easy. Get to the Cloud fast.
Increase security levels with dedicated, private access to cloud services without touching the public internet.
Achieve optimal speed with Megaport, the high speed Ethernet interface that connects to the Megaport fabric.
Scale bandwidth instantly up or down based upon your needs.
Maintain budget goals with month-to-month billing and simple port and VXC terms with no long term contracts.
Connect to AWS, Google, Azure, Oracle, Office 365, Sales Force, other Megaport connected data centers, and more.
Experience time and cost savings with dynamic provisioning in 59 seconds.
Save Money
Reduce Hyperscale
Data Egress Charges
WANT TO FIND OUT HOW MUCH YOU'LL SAVE
IN DATA EGRESS AND PORT FEES ALONE?