SCALEBACKUP BaaS
Ransomeware attacks, human error, and unexpected events can affect any size business and the result could be devastating. Your data must be backed up securely and frequently so that if these unfortunate events were to occur, your business is prepared with clean and updated data.
Back up your data with ScaleBackup, a cloud backup solution with Cloud Connect powered by Veeam. Your'e making an important choice to pick the right partner and we are confident that our team will deliver the best experience, the solution you need, at the best price.
ScaleBackup is hosted in the most secure SSAE18 compliant high-density data centers and is an easy and cost-effective way to back up your infrastructure to the cloud using Veeam Cloud Connect, which includes Storage and WAN Accelerator.
Do you need an onsite backup solution? ScaleBackup Appliance is fully managed by ScaleMatrix to be used for your backup job repository at your location, at ScaleMatrix data centers, or through your private cloud, with Veeam licenses included.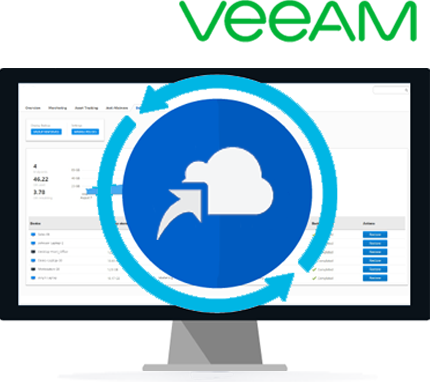 Backup & Replication Highlights
On-premises or in the cloud
Backup verification and testing
Direct storage access
Managed or self-managed choice
WAN accelerator for faster backups
Granular Recovery
NO IN/OUT data transfer fees
Application-consistent backups
Offsite backups with Cloud Connect
Image-level VM backups
Backup from storage snapshots
Live support 24/7/365

ScaleBackup Appliance
ScaleBackup Appliance is fully managed by ScaleMatrix' Professional Support Team and is used as a backup job repository only. Select from Small (up to 15 VMs), Medium (up to 25 VMs), or Large (up to 50 VMs) ScaleBackup Appliance sizes depending on your VM, storage requirements, and growth expectations. You will find the pricing to be competitive and the value to be exceptional.
Veeam licensing included
ReFS Formation to save data volume space
Intel®Xeon® Processors
Encryption capability
Generation 10 HPE Server
Deduplication with compression
Supports up to 3TV of
PC4-2666V-R Memory
HPEiLO 5 Management Control
managed by ScaleMatrix
Space savers Raid 1 for OS and Raid 5 for data
Expansion array storage available for growth
Veeam Cloud Connect

Everyone needs a place to store their backups offsite. We see more and more customers turning to the cloud as a better alternative to rotating tapes or removable media off site. With Veeam Cloud Connect and ScaleMatrix, there is no VPN, no separate console, and the cloud repositories work like other backup repositories. Set up, manage, configure, and test backups on your own time with 24x7 access to applications and data through Veeam's web portal.
When is a Disaster Recovery solution needed?
Veeam Backup for Microsoft Office 365

With Office 365, it's your data - you control it and it is your responsibility to protect it. Even though Microsoft hosts the infrastructure, this doesn't replace your responsibility to maintain a backup of your Office 365 data.
Take control of your organization's Office 365 data
Reduce the time and effort needed to find and restore email data
Protect against data loss scenarios that are not covered by Microsoft
Facilitate the migration of email data between Office 365 and on-premises Exchange
Relying on Microsoft to effectively back up your
Office 365 data is not enough!
Download the Product Overview Data Sheet
Benefits of ScaleBackup for Virtualized Environments
One-Call Support Guaranteed

Our U.S.-based support teams provide live phone support for every client request. We go above and beyond to provide white glove support 24/7/365. We're here whenever you need us.

Highly Secure

ScaleMatrix has the highest standards for security. Data integrity and confidentiality are ensured through physical, technical, and administrative security controls.
 

Data Loss Avoidance

Avoid data loss by enabling low recovery point objectives with off-site data protection.

Support Multi-Hypervisors and Agents

Protect VMware vSphere and Microsoft Hyper-V VMs from one console as well as Linux and Microsoft Windows agents.

Cost Model

ScaleBackup includes Cloud Connect, Storage, and WAN accelerator for a low price - just connect with us for an expedited quote.

Industry Benefits

Additional resource links are available when choosing a data backup solution: Healthcare, Financial, Retail, Manufacturing, Countering Ransomware