ScaleMatrix and DDC Cabinet Technology Make Waves @ SC19!
Theme for SC19 Conference this year is #HPCisNow – and We Couldn't Agree More!
As a company dedicated to delivering compute for virtually every workload through our cloud, colocation, and Edge solutions, we've been a part of the movement supporting and accelerating dense computational requirements since our founding in 2011. Our continuing mission - to make enterprise and high performance computing more affordable and accessible through the development of our Dynamic Density Control™ family of products, services, and data centers.
ScaleMatrix was admittedly early to the dense computing market – perhaps a bit too early – but the years of operational experience we've gained have helped mature our product offerings, has put us at the center of this changing workload revolution, and we are ecstatic to now be at the right place, at the right time, as this year's incredibly exciting SC19 kicks off!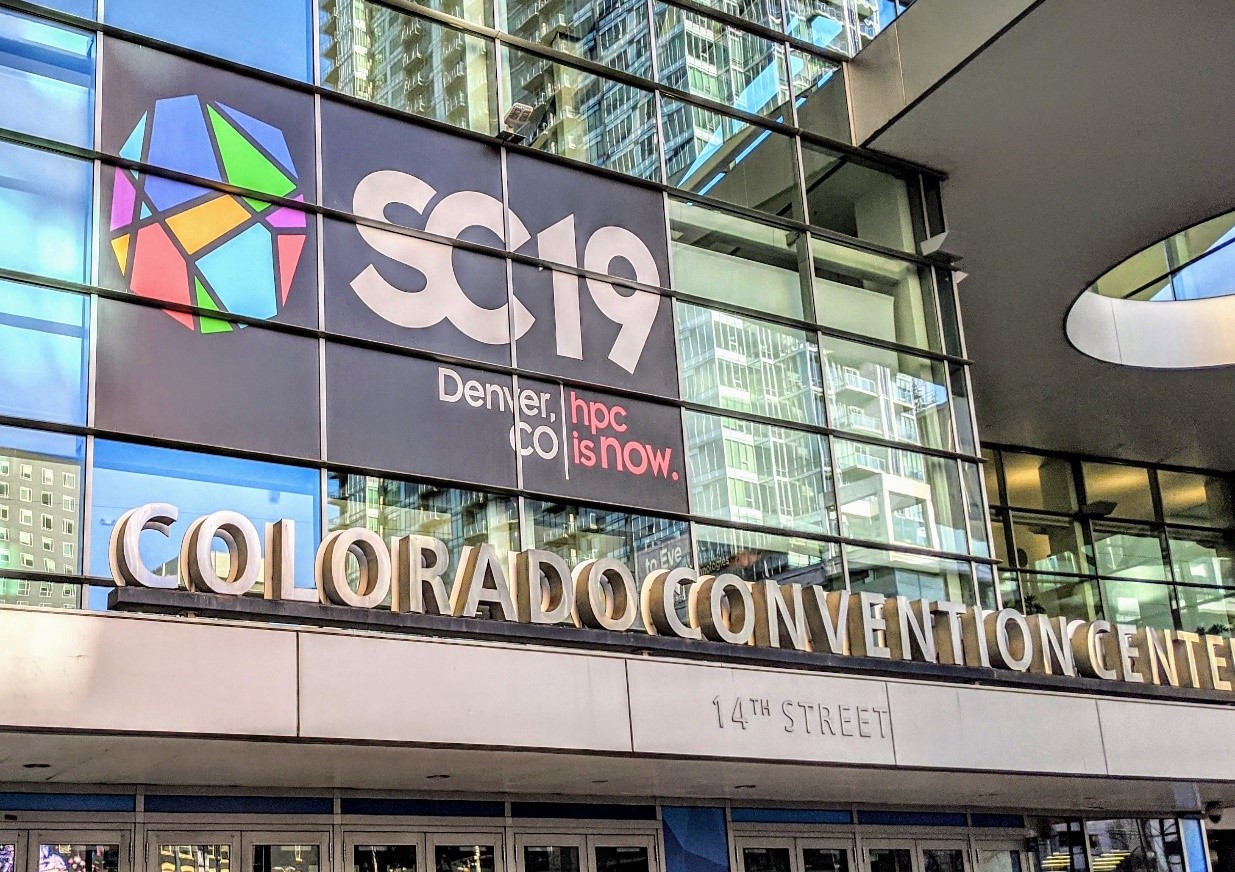 Having walked the show flow as our fellow exhibitors set up for the week here in Denver, the trends in every industry are inevitably driving towards denser computing solutions, in both the datacenter and at the EDGE.
ScaleMatrix and DDC Cabinet Technology are set to turn heads on the show floor again this year, with a number of exciting announcements focused on making HPC available and more accessible for everyone, from large-scale HPC users, to startups who require access to the latest and greatest infrastructure available, without time to wait. Here are just a few of the reasons you should consider stopping by our booth (#2131) at SC19, or connecting with us after the show, to see some of the cutting edge solutions we are announcing which push the envelope of what's possible in this exciting space!
ScaleMatrix/DDC Enables 'AI Anywhere' with NVIDIA, Microway, Mellanox, and NetApp​​​​​​
Together with our partners at NVIDIA, Microway, Mellanox and NetApp, we have developed a new composable, all-inclusive SKU – which will deliver scalable NVIDIA DGX1 or DGX2 compute capabilities, high-speed NetApp All Flash Storage, 100Gb/e Mellanox Switching fabric, as well as professional installation and ongoing support services from the HPC experts at Microway. Compute, storage, networking, management hardware, along with critical deep learning tools including SLURM,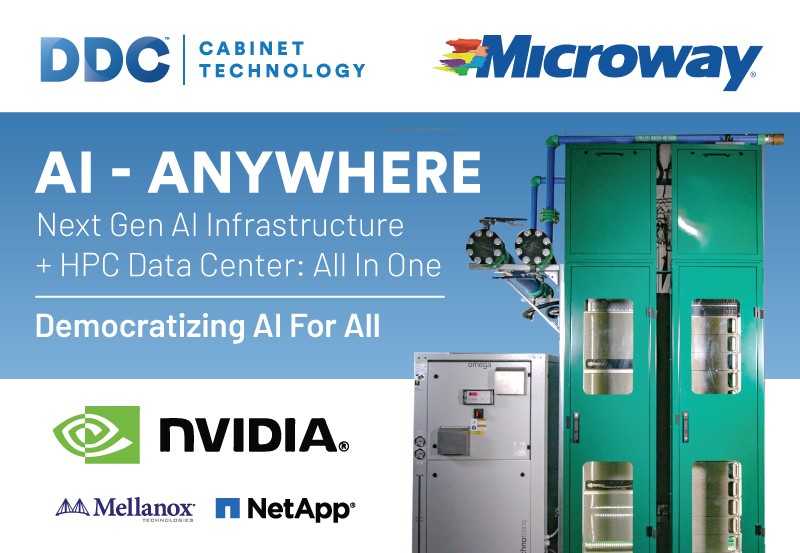 Kubernetes, Prometheus, Grafana, and Ansible will be packaged in the ScaleMatrix Dynamic Density Control™ S-Series cabinets, meaning any organization can install a scaling supercomputing infrastructure using NVDIA DGX systems without a pre-existing data center.
The AI ANYWHERE SKU, MWDD-2001, includes a "deploy anywhere" enterprise data center platform, including a micro-chiller and advanced environmentally cooled DDC cabinet enclosures, which mean the end-user only needs a small footprint of space and available power in order to launch this next-generation capability. The MWDD-2001 SKU includes all necessary reference architecture components, but also allows clients to choose between both the DGX1 and DGX2 platforms, and users can start with as many DGX devices as their organization needs, with the DDC data center system providing support for up to 4 X DGX2 systems, providing 8PFLOPS of Deep Learning capability, or they can choose to deploy up to 13 X DGX1 systems, providing 13PFLOPS of AI computing power.
Both the DGX1, DGX2, and DDC HPC Modular Data Center solutions will be on display live in the ScaleMatrix / DDC booth, #2131 at SC19. Seeing IS believing, but if you aren't able to make the show this year, you can check out the solution on our website: https://ddcontrol.com/ai-anywhere-dgx/
There is so much that can be said about this exciting offering, but the bottom line is that we are making HPC more accessible to more organizations than ever before. With pre-loaded deep learning and AI framework containers, and including NetApp ONTAP AI storage, and Mellanox switching, the customer experience for end users is simply to physically install the DDC cabinet platform, connect network interfaces, power on the system(s), and begin to load data and start training runs. This solution is configured for rapid-deployment, providing the shortest path between you and supercomputer level deep learning capabilities. You have to check this out in person!
Dense Computing with our R-Mobile Cart, NetApp ONTAP AI, Solving for #UrgentHPC Demands!​​​​​​
A theme being discussed at SC19 is UrgentHPC – something our rapid deployment capabilities are well suited to solve. This week, at SC19, ScaleMatrix, DDC, NVIDIA, and NetApp are working to push the boundaries of where computing can go, and thus what computing can do.
Visit our booth #2131, to see a live demonstration of our DDC R-Mobile Series enclosure - effectively a supercomputer on a cart, that can be used in rapid deployment situations, in any environment. With UrgentHPC becoming a more common demand, our R-Mobile supported by NVIIDA and NetApp's ONTAPAI architecture, HPC and AI capabilities can truly go – ANYWHERE. https://ddcontrol.com/r-series/r-mobile/
When large amounts of data need to be analyzed in the field, such as during wildfires, extreme weather, and other public emergencies, the DDC R-Mobile + ONTAP AI architecture delivers. From security and defense applications, to deep earth mining and other geophysical research needs – the use cases continue to grow.
Artificial Intelligence (AI) and thus HPC itself will one day be looked at as a broad service in the same way that Internet and mobile access technology are looked at today across industries. The R-Mobile Series is an exciting platform for powerful mobile computing that is worth checking out. Come see the R-Mobile in action at our booth!
Read the blog post from NVIDIA here: https://blogs.nvidia.com/blog/2019/11/18/dgx-superpod-infrastructure/
See the video of the R-Mobile with ONTAP AI: https://vimeo.com/373298526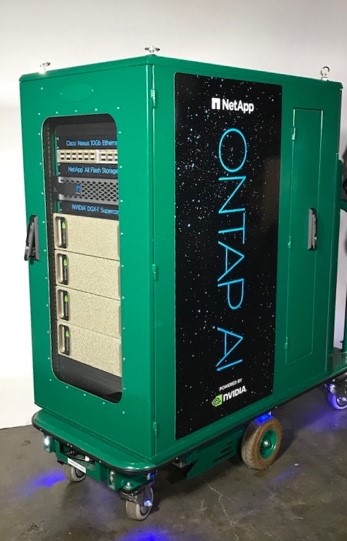 HPC at the Edge with HPE & Apollo20
HPC's day has come! Applications like Artificial Intelligence, Deep Learning, and Natural Language Processing (NLP) are changing every industry.
Hewlett Packard Enterprise (HPE) is help match performance to workload, ensuring your budget and performance criteria meet, and that your return on your HPC investment is sound.
The HPE Apollo 20 System is ideally suited for data-intensive workloads, which often occur near the edge, including oil and gas, finance, AI, manufacturing, and life sciences.
In the field of oil and gas exploration, companies must effectively manage and store exabytes of seismic data, maps, and more. They need the processing power to turn that data into real-time analytics to help optimize production, reduce environmental risks, and enhance operational safety. They may want to institute machine learning to help increase success in identifying and drilling future wells.
Elsewhere, a renowned public research university is performing cancer genome research. Each genome file, representing the DNA record from a tumor or normal tissue, equals 300GB, every case has two of these files: the cancer genome and the normal genome. They routinely collect up to PB of data each month that needs to be processed, analyzed, and securely stored.
When we combine the flexibility and power of the Apollo 20 systems, and the mobility and ruggedized capabilities of the DDC R-Series turnkey data centers, HPC can truly be delivered, ANYWHERE.
Come see the DDC R-1012 chassis fully loaded with Apollo infrastructure – ready for deployment, at the ScaleMatrix / DDC booth # 2131!
See the video of HPC at the Edge: https://vimeo.com/373298907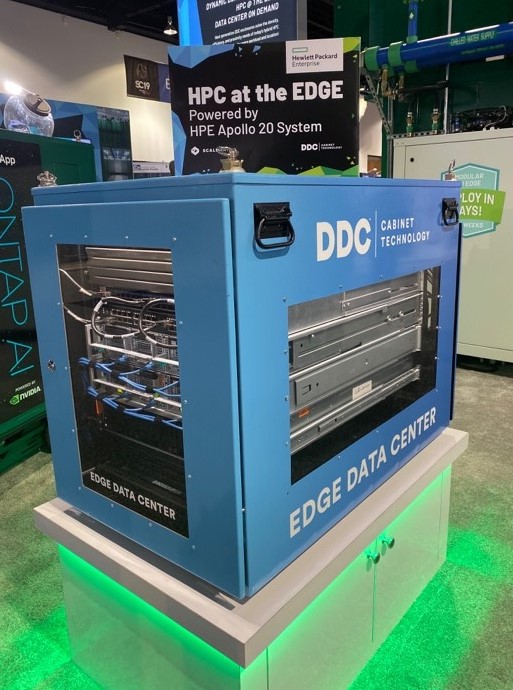 Core to Cloud to Edge Presentation by ScaleMatrix in HPE Booth 1325: Tuesday 11/19 – 3:30pm
ScaleMatrix and DDC have always espoused the benefits of hybrid solutions and their ability to drive more value for our clients and end-users. From data centers and cloud platforms, and all the way to the Edge, the need for balance performance, location, and cost for advanced computing solutions has never been greater.
Our long standing partnership with HPE is aimed at accentuating those capabilities. This year at SC19, ScaleMatrix, and HPE (now HPE + Cray) will present a Core to Cloud to Edge presentation in the HPE Booth #1325, at 3:30pm on Tuesday November 19th.
HPE is one of the largest and most successful providers of HPC infrastructure, and with a growing need to deliver those solutions in a variety of locations, our ScaleMatrix Data Centers and DDC cabinet enclosures help clients deploy this power infrastructure without concerns for data center resource constraints.
Join us in the HPE Booth #1325 at 3:30pm MT for a presentation on how HPE, ScaleMatrix, and DDC can help you succeed in an increasingly hybrid world!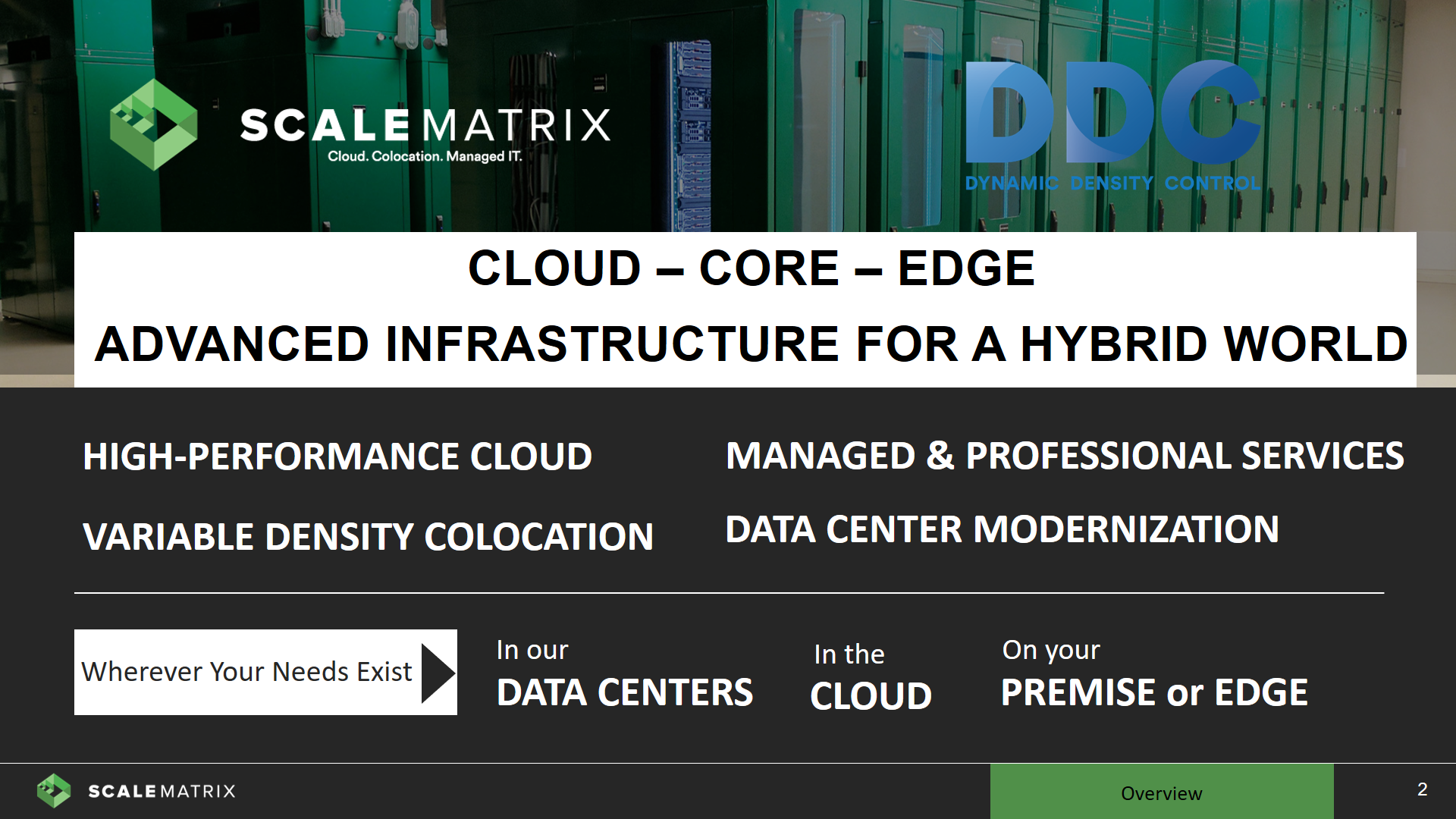 ScaleMatrix and HPE Center of Excellence for High Performance Computing Showcase
A year ago at SC18, ScaleMatrix and HPE announced the first U.S. based Center of Excellence for High Performance Computing. At our one year anniversary, the massive Apollo HPC deployment resides in one of ScaleMatrix' high-density data centers and enjoys the precision cooling and airflow management that only our DDC cabinet technology can provide!
The platform serves as an EARLY ACCESS environment for those wanting to try to the power of Apollo for themselves and is currently hosting a larger number of Proof of Concepts and test environments for some of the most advanced computational workloads in existence.
To learn more about the HPC Center of Excellence, hosted by ScaleMatrix and HPE, or want to become part of the EARLY ACCESS PROGRAM – visit us here: https://www.scalematrix.com/HPE-HPC-Center-of-Excellence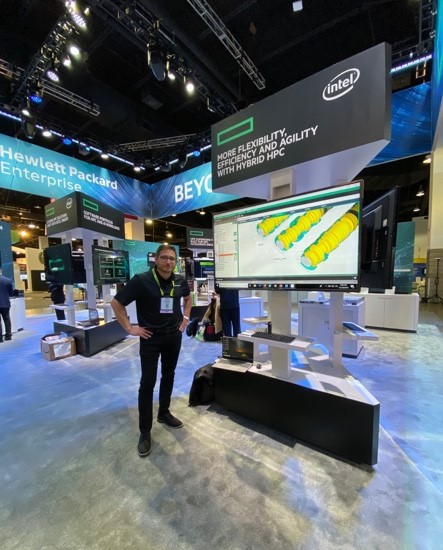 Pictured above: ScaleMatrix Engineer, Gabrielle De La Pena, at the HPE booth.
Center of Excellence for HPC: Early Access Program Success – Customer Highlight
An exciting example of the power of the Center of Excellence Early Access Program is on display in HPE booth #1325.
ScaleMatrix Engineer, Gabrielle De La Pena will be showing demos in the HPE booth showcase the Center of Excellence, the Early Access Program, and one of our existing early access users, EDGC. Read a little about their exciting project.
The recent development of next-generations sequencing (NGS) technologies to sequence cancer patient blood samples for Liquid Biopsy analysis facilitates early detection and accurate diagnosis of cancer. However, the main challenge lies in the processing massive amount of sequencing data for fast and precise bioinformatics analysis. High Performance Computing (HPC) can effectively accelerate the deep learning of raw sequencing data to translate to clinically actionable result.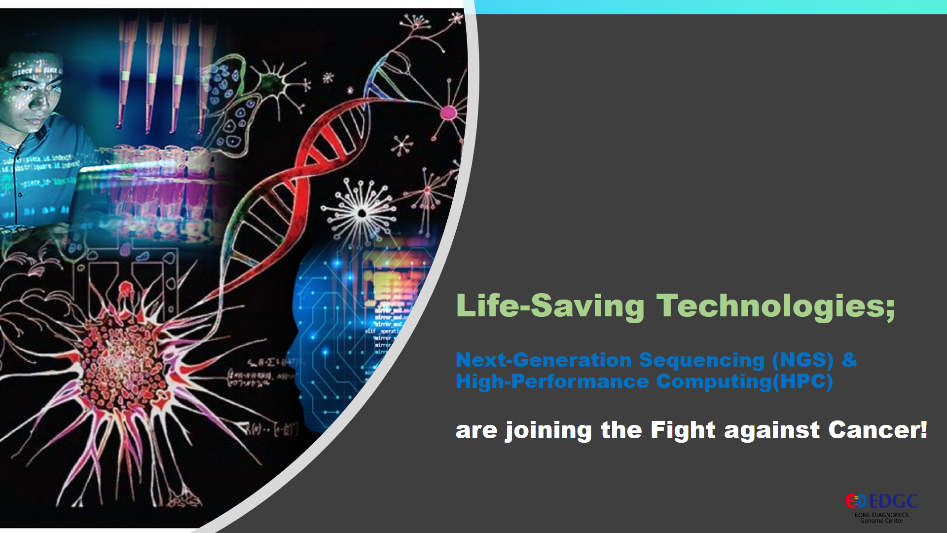 DDC S-Series Cabinet Receives First Major Engineering Update to Support 85kW
Density is growing and creating new challenges as organizations scramble to find ways to cool and extend their systems' lifespans. While the industry is buzzing about liquid-to-chip/chassis cooling, immersion baths, and other exotic approaches, the DDC platform provides all the efficiencies of liquid cooling, while providing the risk-free, flexibility of air – the method familiar to all IT operators, everywhere.
With this key engineering update, the DDC S-Series data center platform is now able to support up to 85kW in thermal density – without any modifications to your hardware. Simple rack, stack, and deploy!
This constitutes an increase in the S-Series hardware density capacity by 63% (from 52kW to an industry-leading 85kW) making the S-Series the world's most scalable plug-and-play data center platform available on the market today. These cabinets are loaded with technology and are truly a marvel in modern engineering - true works of art that you have to see to truly appreciate. You'll see our 85kW banner loud and proud above our booth. Stop in and give the Dynamic Density Control technology a look. With a live 13PFLOP system running in our booth, you'll get to see the DDC platform in action! You won't have any choice but to walk away impressed.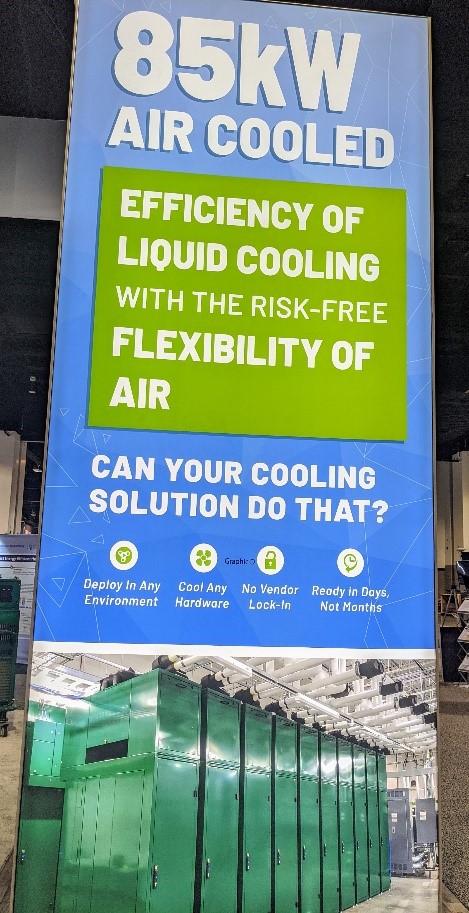 --
We are looking forward to a great #SC19 conference. If you're on the show floor, feel free to drop in and start up a conversation. We have a lot to talk about, and we are eager to do our part to fulfill the vision that #HPCisNOW.
Have a great SC19!
Chris Orlando
CEO/Co-Founder
ScaleMatrix